Benbini Watches
*****CLEARANCE*****
What mom doesn't need a little help?
When we hatched the idea for the Benbini, we had a bone to pick with that biological clock that tick-tick-ticked us along toward mommydom. Where was it now that we needed it? Everywhere we looked, friends were trying to keep up with something related to life as a mom – time since last feeding, time since last nap, time since last dose, time until next cocktail.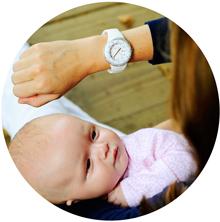 You get the idea.
We dreamed of a mom-tool to give us just the boost we needed to keep it all a little more together. Nothing complicated. Nothing loud. Nothing that required a faux-leather travel bag with 14 pockets. Something small. Something brilliantly functional. Something – dare we say it? – even stylish. And effortlessly wearable.